Un atelier d'architecture composé de passionnés du design.
Implantés à Bromont, à quelques 50 minutes à l'est de Montréal, nous formons un atelier d'architecture de taille moyenne d'une dizaine de passionnés avec un intérêt particulier pour l'architecture vernaculaire régionale. Nos solutions vont du classique au contemporain.
Nos projets résidentiels sur mesure englobent autant des studios d'artistes de 60 m2 que des manoirs de 2 500 m2 et des domaines privés sur des centaines d'acres de terrain.
Les sites que nous avons traités comprennent des terrains en bordure de plans d'eau, en montagne, en milieu agricole ainsi qu'en banlieues de grandes villes et en milieux urbains.
Nous avons réalisé des bâtiments accessoires exceptionnels, comprenant granges, écuries, "boathouses" "coach houses", follies de jardins, portails, belvédères.
Nos projets de résidences multiples comprennent des ensembles de 500 condos de villégiature, des communautés en milieux de ski (ski-in, ski-out), sur terrains de golf, en bordure de lacs. Nous réalisons des projets d'ensemble pour retraités et préretraités.
En milieux urbains, nous avons réalisé des projets intégrés comprenant condos, maisons en rangées, semi détachés, et unifamiliales ainsi qu'un projet innovateur comprenant une gare de train de banlieue, un complexe commercial et le volet résidentiel composé de logements locatifs, condos, maisons en rangées et semi détachés, et résidences unifamiliale détachées.
En addition aux multiples projets commerciaux (restaurants, boutiques, édifices à bureaux, etc.) que nous avons réalisés en milieux de villégiature, nous réalisons des complexes commerciaux d'envergure.
Nos projets institutionnels comprennent des Hôtels de Villes, bibliothèques, centres communautaires, et résidences communautaires.Nous réalisons des résidences pour personnes âgées autonomes et semi-autonomes.
Nous avons rénové et agrandi certaines des grandes auberges 5 étoiles du Québec ainsi que plusieurs immeubles historiques au cœur de ''rues principales'' de plusieurs communautés.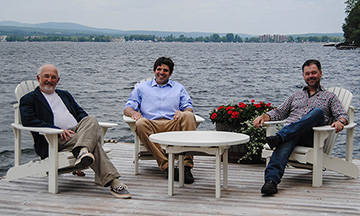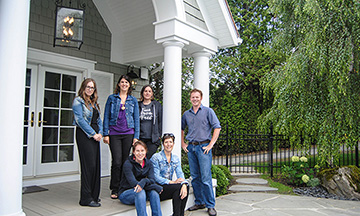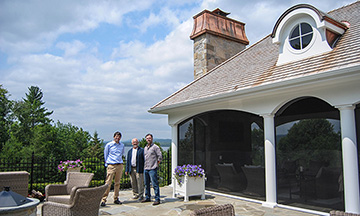 An architects studio with a passionate group of people dedicated to producing exceptional designs.
Located in the country community of Bromont, Québec, 50 minutes east of Montreal, we are a medium size architectural firm with a passion for timeless design of exceptional quality.
Our custom housing projects have encompassed everything from 600 sq.ft. artist's studios to 30 000 sq.ft. homes as well as family estates, with sites on waterfronts, farm properties, mountainsides and cliffs.
Projects have included carriage and coach houses, stables, barns and outbuildings, boathouses, poolhouses, gazebos, garden "follies", portals and gateways.
Multiple housing projects include 500 unit mountainside condo communities, ski-in, ski-out condo, townhouse and single family housing communities, single and multiple unit golf communities and waterside recreational communities.
We are presently working on housing projects targeting empty nesters and retirees Urban projects include integrated condo and townhouse communities as well as an innovative Transit Oriented Development (TOD) project which includes the train station, the retail commercial complexes and the 1 000 unit residential community comprised of multi-unit condos, townhouses, single family houses and empty-nester clusters.
Retail commercial projects include country shopping complexes, restaurants, retail outlets and office buildings. Recent projects have included retail outlet ''villages''.
Institutional projects have includes town halls, libraries, community centers and community housing projects. We are currently working on retirement housing for autonomous and semi-autonomous residents.
We have undertaken the expansion and renovation of a few of Quebec's most famous 5 star country Inns as well as historically significant buildings on ''main streets'' in several municipalities.
The 1 000 000 sq.ft. of industrial buildings we have designed are among the most energy efficient industrial buildings in the world.